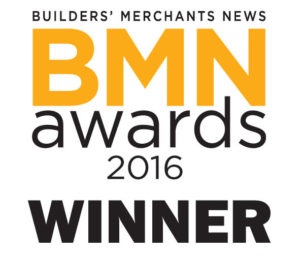 Keylite has rounded off an exceptional year for the company by winning 'Supplier of the Year' at this year's Builders' Merchants Awards for Excellence.
The prestigious event took place in London with over 700 key industry figures in attendance. The Awards are an important event in the Builders' Merchants' calendar and the only ones to officially recognise and reward the significant contribution builders' merchants and their suppliers make to the construction industry.
Jennie Craig, Group Editor of the BMN and Chair of the judging panel commented: 'Keylite Roof Windows is a great business that has received impressive feedback from their merchant partners, working closely with them to support the merchants' own initiatives as well as helping them attain impressive sales growth.'
John Duffin, Keylite Managing Director, has also expressed his delight at winning this highly sought after award:  
To win Supplier of the Year 2016 is an amazing honour for Keylite, and is the icing on the cake for a landmark year of growth for the company. The Keylite team are 100% focused on delivering outstanding customer service, it truly is the cornerstone of our company ethos. To be recognised by the BMN as the UK's top supplier makes us incredibly proud and reinforces our commitment to innovation, service, product and partnership initiatives to ensure we continue to be known as the merchant's favourite supplier.