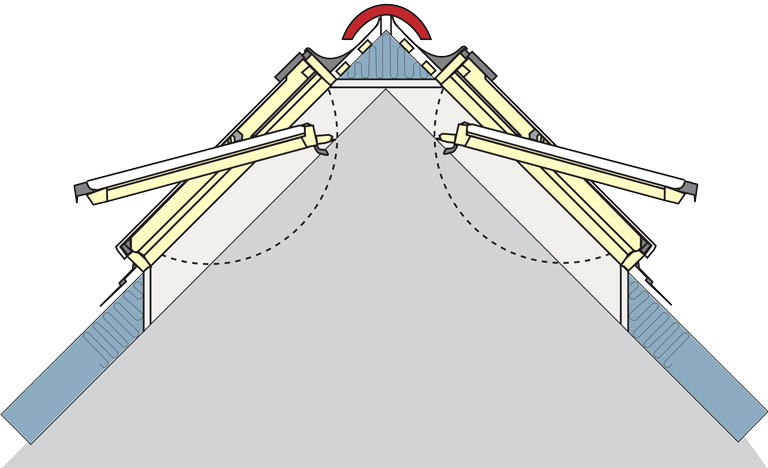 Ridge Window
Keylite Ridge (RG) roof windows may be installed along the roof ridge to maximise light and space at the highest point of the pitched ceiling and create a striking feature.
Keylite RG roof windows are ideal for both domestic and commercial applications, and are available for the following ranges: Centre Pivot (CP), Top Hung (TH), Conservation (CW) and Finition Blanc (WF) Roof Windows all with the option of an Integral Blind (I).
Usually installed in out-of-reach locations, these roof windows may be electrically operated by hand-held remote control or a wall-mounted switch.
The installation of Keylite RG Roof Windows is very similar to standard roof window installation.
The roof windows must be positioned in a way to avoid opening without the sashes colliding.
Keylite RG roof windows that are positioned 280mm or greater below the ridge can be fitted using standard Keylite Flashings.
Windows that are positioned less than 280mm will require Keylite RG Flashings.
Expanding Vitrage thermique Collar
Just pull the tapes and the foam expands to fill the gap between the window and the roof timbers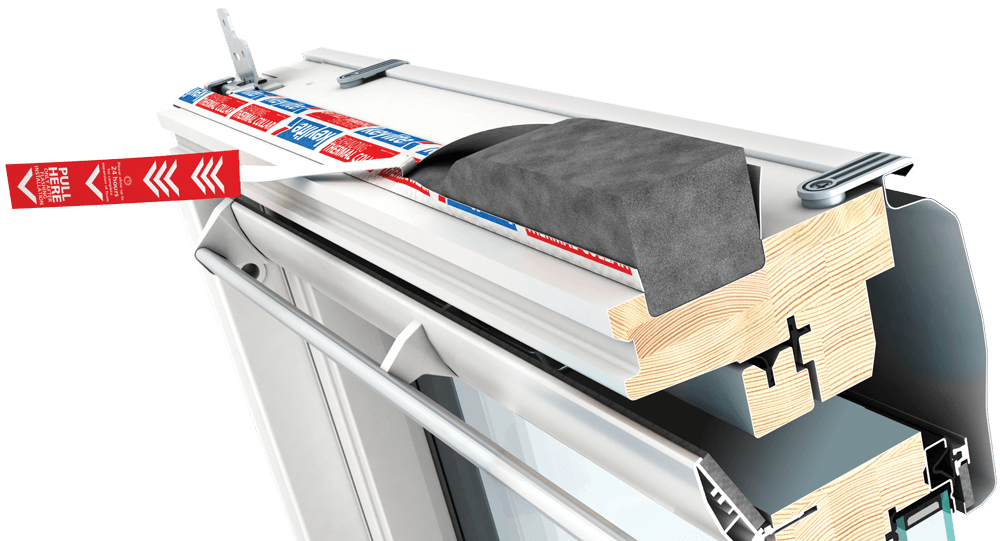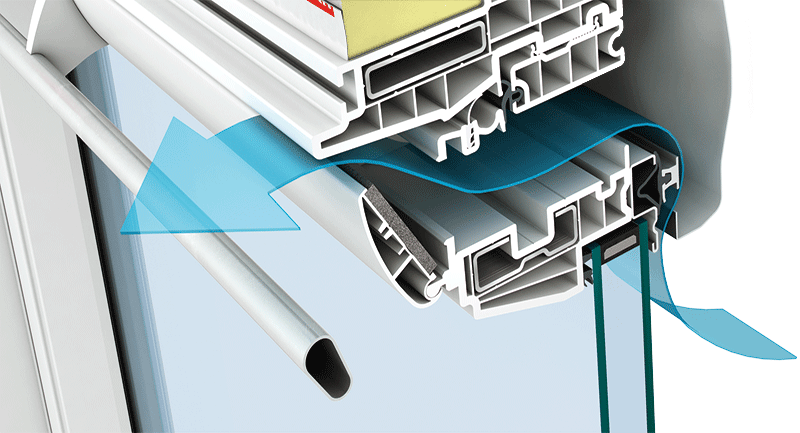 All Weather Ventilation
Keylite Roof Windows all provide trickle ventilation, even with the window fully closed and securely locked.
Ventilation Filter
The built-in insect filter ensures only clean, fresh air passes into the room.
Streamlined
All our roof windows are recessed for an in roof look.
Streamlined
All our roof windows are recessed for an in roof look.
<h1 id="SizesTitle" class="et_pb_text_align_center">Dimensions des fenêtres de toit</h1> <div class="rg-content"> <table class="rg-table"> <thead> <div class="table-imgs"> <img src="https://www.keyliteroofwindows.com/media/2380/single.jpg"> </div> <tr> <th class="text">Dimension des fenêtres</th> <th class="text" style="">780x1180</th> <th class="text" style="">780x1400</th> </tr> </thead> <tbody> <tr class=""> <td class="text tfinish" colspan="13">Finition Pin</td> </tr> <tr class=""> <td class="text" data-title="Dimension des fenêtres">Keylite Vitrage thermique - Product Code</td> <td class="text" data-title="780x1180"> <a href="#">RG-CP-05-T</a> </td> <td class="text" data-title="780x1400"> <a href="#">RG-CP-06-T</a> </td> </tr> <tr class=""> <td class="text tfinish" colspan="13">Finition Blanc</td> </tr> <tr class=""> <td class="text" data-title="Dimension des fenêtres">Keylite Vitrage thermique - Product Code</td> <td class="text" data-title="780x1180"> <a href="#">RG-WF-CP-05-T</a> </td> <td class="text" data-title="780x1400"> <a href="#">RG-WF-CP-06-T</a> </td> </tr> </tbody> </table> </div>
<div class="rg-content"> <table class="rg-table"> <thead> <div class="table-imgs"> <img src="https://www.keyliteroofwindows.com/media/2381/double.jpg"> </div> <tr> <th class="text">Dimension des fenêtres</th> <th class="text" style="">1660x1180</th> <th class="text" style="">1660x1400</th> </tr> </thead> <tbody> <tr class=""> <td class="text tfinish" colspan="13">Finition Pin</td> </tr> <tr class=""> <td class="text" data-title="Dimension des fenêtres">Keylite Vitrage thermique - Product Code</td> <td class="text" data-title="1660x1180"> <a href="#">DRG-CP-05-T</a> </td> <td class="text" data-title="1660x1400"> <a href="#">DRG-CP-06-T</a> </td> </tr> <tr class=""> <td class="text tfinish" colspan="13">Finition Blanc</td> </tr> <tr class=""> <td class="text" data-title="Dimension des fenêtres">Keylite Vitrage thermique - Product Code</td> <td class="text" data-title="1660x1180"> <a href="#">DRG-WF-CP-05-T</a> </td> <td class="text" data-title="1660x1400"> <a href="#">DRG-WF-CP-06-T</a> </td> </tr> </tbody> </table> </div>
<div class="rg-content"> <table class="rg-table"> <thead> <div class="table-imgs"> <img src="https://www.keyliteroofwindows.com/media/2382/triple.jpg"> </div> <tr> <th class="text">Dimension des fenêtres</th> <th class="text" style="">2370x980</th> <th class="text" style="">2370x1180</th> <th class="text" style="">2370x1400</th> </tr> <tr> <th class="text">Structural Opening Size/th> <th class="text" style="">2355x2115</th> <th class="text" style="">2355x2490</th> <th class="text" style="">2355x2900</th> </tr> </thead> <tbody> <tr class=""> <td class="text tfinish" colspan="13">Finition Pin</td> </tr> <tr class=""> <td class="text" data-title="Dimension des fenêtres">Keylite Vitrage thermique - Product Code</td> <td class="text" data-title="2370x980"> <a href="#">TFRX-CP-04-T</a> </td> <td class="text" data-title="2370x1180"> <a href="#">TFRX-CP-05-T</a> </td> <td class="text" data-title="2370x1400"> <a href="#">TFRX-CP-06-T</a> </td> </tr> <tr class=""> <td class="text tfinish" colspan="13">Finition Blanc</td> </tr> <tr class=""> <td class="text" data-title="Dimension des fenêtres">Keylite Vitrage thermique - Product Code</td> <td class="text" data-title="2370x980"> <a href="#">TFRX-WF-CP-04-T</a> </td> <td class="text" data-title="2370x1180"> <a href="#">TFRX-WF-CP-05-T</a> </td> <td class="text" data-title="2370x1400"> <a href="#">TFRX-WF-CP-06-T</a> </td> </tr> </tbody> </table> </div>
Dimensions des fenêtres de toit
Select white or pine finish to reveal roof window sizes
<a class="et_pb_promo_button et_pb_button" href="https://keylitefenetredetoit.fr/help-centre/why-keylite/" style="font-weight:600;">Pourquoi Keylite?</a>
<p style="padding-top:4px;">Visitez cette page</p>